Commercial use swimming pool filter is still the most popular standard in the industry, with UV-resistant surface finish, it is able to operate under prolong sunlight for years of reliability.
The more things are trapped in the filter bed, the clearer the water filtered by the sand cylinder and the higher the efficiency of the sand cylinder.
Model:PS1200-PS2350
Technical Characteristics

Mode
Filter Area (㎡)
Vatve Connections

Max Flow Rate
Gravel (kg)
A mm
B mm
PS1200
1.13
3.0inch 90mm
55m³/h
900
1410
1200
PS1400
1.54
3.0inch 90mm

76m³/h

1350
1570
1400
PS1600
2.06
4.0inch 110mm

100m³/h

2300
1740
1600
PS1800
2.52
6.0inch 160mm

120m³/h

2900
2040
1800
PS2000
2.97
6.0inch 160mm

145m³/h

4000
2210
2000
PS2300
4.43
8.0inch 200mm

210m³/h

6000
2510
2300
PS2350
4.43
8.0inch 200mm
210m³/h
6600
2510
2350

4/5 Way Butterfly Valve

Maximun Working Pressure: 250kPa/36psi/2.5bar

Factory Testing: 400kPa/58psi/4.0bar

Maximum Water Temperature: 43℃(109℉)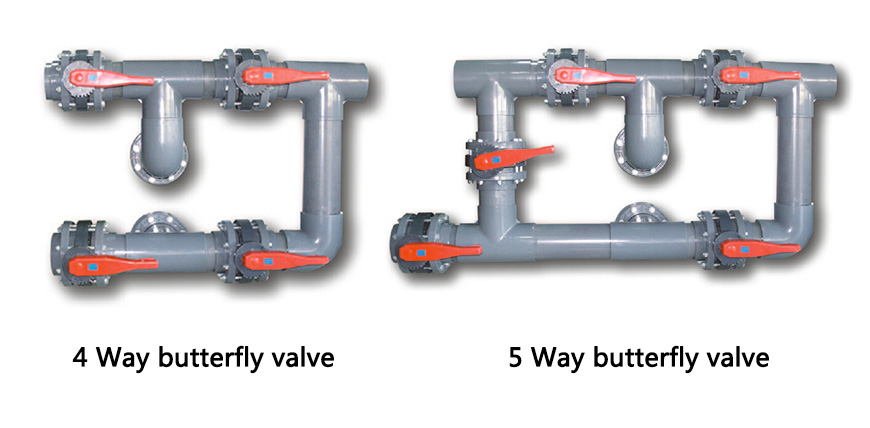 Instruction of install our

swimming pool sand filter

:


INSTALLATION
Installation had been made simple, the only tools
needed is a screwdriver and pipe sealant for plastic.
Locate the Filter on hard, level surface, preferably in a dry, shaded, and well-ventilated area.
1/ Place the empty tank in position.
2/ Fill the tank with water to the level that covers the laterals

about 1/3 of the tank is recommended. This will avoid damages to the laterals by the force of the sand when pouring into the filter.
Manufacturing factory & Production Process of our

swimming pool sand filter


We have a experience and expertise together with our devoted staffs.

Our goal is " Quality is our culture and we will try best to provide the unsurpassed customer service"